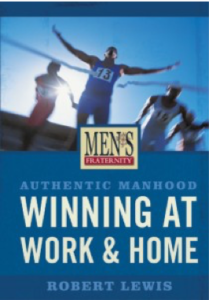 For most men happiness and satisfaction in life are locked up in two words – work and home. This study gives you a game plan for winning in both arenas. You'll get the tools you need to build (or rebuild) your confidence, expand your vision, develop successful life strategies, and improve your performance in your relationship with your wife or girlfriend, in your relationship with your children, and in your job.
Robert Lewis is pastor-at-large of Fellowship Bible Church in Little Rock, Arkansas, He founded and developed Men's Fraternity in 1990. Today, this ministry reaches men worldwide in churches, college campuses, in corporate boardrooms, and in prison cell blocks through the three-year vide curriculum The Quest for Authentic Manhood, Winning at Work and Home, and The Great Adventure.
For more information contact Chris Van Brocklin at kcvb@aol.com or 931-788-3754
TREK: Get Healthy
When: Coming Soon
Where: Central Baptist Church – Crossville
Cost: $10.00 (workbook)
The 2:7 Series i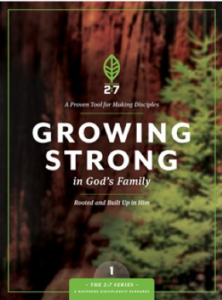 s a disciple training course for Christians who want to grow in their faith. In book one, you will memorize key scriptures, do weekly Bible study, and become more consistent in a daily devotional time. You will meet once a week with others at a time and location that works best for the group.
Book 1: Growing Strong in God's Family (11 weeks)
In the first book in The 2:7 Series, you complete exercises that strengthen your spiritual foundation through enriching Bible study, Scripture memory and group interaction.
For more information and to register, contact Scott White at scottwhite@cbccrossville.org.
TREK: Get Strong
When: First Week of February
Where: TBD
Cost: $10 Workbook
Central Men is a ministry of Central Baptist Church. Our ministry complements other church ministries by intentionally focusing in on men's discipleship. We strive to see every man useful for God's purposes.
Motto: Loving God, Growing Together, Serving Others
Vision: To restore and strengthen families by equipping men to help build their homes according to God's Word (Eph. 5) and to reach out to others to do the same (Matt. 28:19-20). To glorify God by helping to build godly families in Christ.
Vision: We see Central as a place where men are key to healthy marriages and families; that when men are healthy, everyone around them flourishes. However, many men today are struggling to understand their god given roles and opportunities. We envision a ministry that provides manhood vision and opportunities for men to connect with other men to restore a healthy understanding of their roles, build their spiritual muscles, and become useful for God's purposes.
To do that, we plan to host a Christian men's conference the first Saturday in February and a trip to a Promise Keepers stadium conference each year to create momentum. We will capture the momentum of those events by forming various study groups using Authentic Manhood curricula; Man to Man and the 33 Series. We will also form No Regrets Study Series groups that take men deeper into discipleship training. We believe that once a man is on a healthy path and trained, he will be much more able to lead his family spiritually and impact the community around him. So, we are prepared to release him to fulfill whatever God's purposes are for his life; in his family, church, community, and the world.
Four-part Strategy:
Get In
Host the No Regrets conference simulcast on February 1, 2020
Get Healthy
Launch Authentic Manhood Studies (large group video and small group discussion)

Get Strong
Launch No Regrets Study Series (small discussion groups of 12 men) at various days, times, and places
Get Going
Promote serving and leadership opportunities such as:

Leading a men's or couple's small group

Leading or serving on a men's event team

Leading or serving on a CBC ministry team

Leading or serving on a community outreach team

Leading or serving on a New Commandment Men's team

Leading a one-on-one or couple-on-couple mentoring team
Accountability among men is an act of integrity. Accountability is designed to protect, encourage, and develop men of all ages. Our men meet regularly the last Saturday of each month for Manning Up! to learn from and with each other. Come join us.