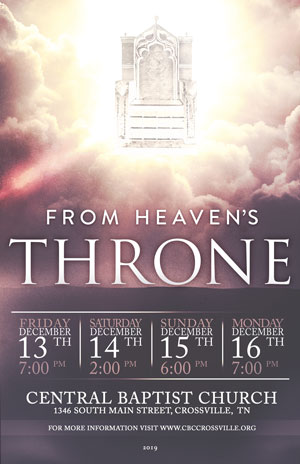 Come join us for An Angelic Celebration of Christmas
as we present "From Heaven's Throne" December 13 – 16
at Central Baptist Church
Free to our community – Reminder tickets are available
No ticket necessary to attend.
The life of Jesus did not begin in the manger, but He existed before all time. He left the majesty and glory of Heaven to come to earth, knowing that He would fulfill the plan of redemption, even to the Cross. The musical opens as the Host of Heaven join together in commissioning Jesus to "Go Change the World," The entire presentation takes place in heaven. We see Mary and Joseph, and all the "cast of Christmas," but we see them as the power and armies of Heaven's Throne surround them. We watch as the angels question the unlikely reception for the King of Kings. We see the contrast between Herod's earthly power and the forces of Heaven. The musical presents the celebration of the angels, the glorious procession of the Kings, and climaxes in a worship experience as the congregation is invited to join in singing a medley of carols. With the closing song we are faced with the challenge to "Go Change the World!"
Created by David T. Clydesdale and Steve Amerson
Music arranged and orchestrated by David T. Clydesdale.
WELCOME HOME
Central Baptist Church's mission is to lead people to grow into mature followers (disciples) of Jesus Christ both at home and church impacting our local community and beyond.
Our unique calling is to be an "intergenerational church family" which makes disciples of all generations from birth through senior adults by emphasizing our relationship with God and other believers throughout our journey of following Jesus Christ. All members and ministries work in unity to contribute to this process.
————————————————————————————————————————————————-
Church Office Hours:
Monday – Thursday 8am – 4pm
Friday 8am – 12 noon
9:30 am
Morning Worship Service
6:00 pm
Children in Action (6pm)
6:00 pm
Intermediates – Mondays 12:45-3:45p
Beginners – Tuesdays 12:45-3:45p
Advanced -Wednesdays 12:45-3:45p
Play Pending – Thursdays 12:45-3:45p
Intermediates-Fridays 8:45-11:45am
Central Baptist Church | 1346 S Main Street
Crossville
,
TN
38555 |
931-484-8426 |
Fax

931-484-0412
2019 Copyright. All Rights Reserved.